Ibiza property market news 2022
Ibiza Now or Never? Ibiza property market news 2022
The recent developments in real estate transactions in Ibiza 2022. The most discussed topic when it comes to real estate in Ibiza is always the cost, how high it's and how it keeps rising, and yes, this is the case compared to most regions in Spain. However, final sale prices aren't published, so these figures are based on asking prices and not sale prices. We aren't saying that prices haven't increased; on the contrary, according to data from our office and some of the homes we have resold recently for our loyal clients, they have increased dramatically. Real estate transactions, on the other hand, are a fascinating trend in the real estate industry. In fact, this is the only accurate data that the Spanish government publishes. Let's take a closer look at how transaction volumes have evolved in recent years and what that means for Ibiza.
Ibiza's real estate market has seen significant growth recently, and 2022 was no different. Until the peak of 2455 transactions in 2017, there was a gradual increase in the number of transactions. Later, in 2018, we observed a decrease of 27%, followed by a decrease of 9% in 2019 and 29% in 2020 as a result of COVID -19. Despite the difficulties brought by the outbreak of COVID -19 in 2020 and 2021, the volume of property sales in Ibiza has increased since then. The increase has been significant, with an increase of 64% in 2021 compared to 2020, but even more remarkable is the increase of 22% in 2021 and of 42% in 2019.
In 2022, Sant Josep de Sa Talaria, Sant Joan de Labritja and Ibiza Town registered the largest increases in real estate transactions. Sant Joan de Labritja, in particular, registered an astonishing 45% increase in transactions compared to the previous year.
The increasing demand for luxury homes in Ibiza is one of the factors contributing to this rise in real estate transactions on the island. The island's stunning scenery, world-class beaches and exciting nightlife attract buyers and investors from all over the world. Properties in Ibiza come in many different styles, from opulent villas and apartments to traditional fincas and simple homes. These properties have proven to be wise investments, offering high rental yields and room for capital appreciation. Remote employment and historically low mortgage rates are two other factors.
Total number of real estate transactions in Ibiza (2013-2022).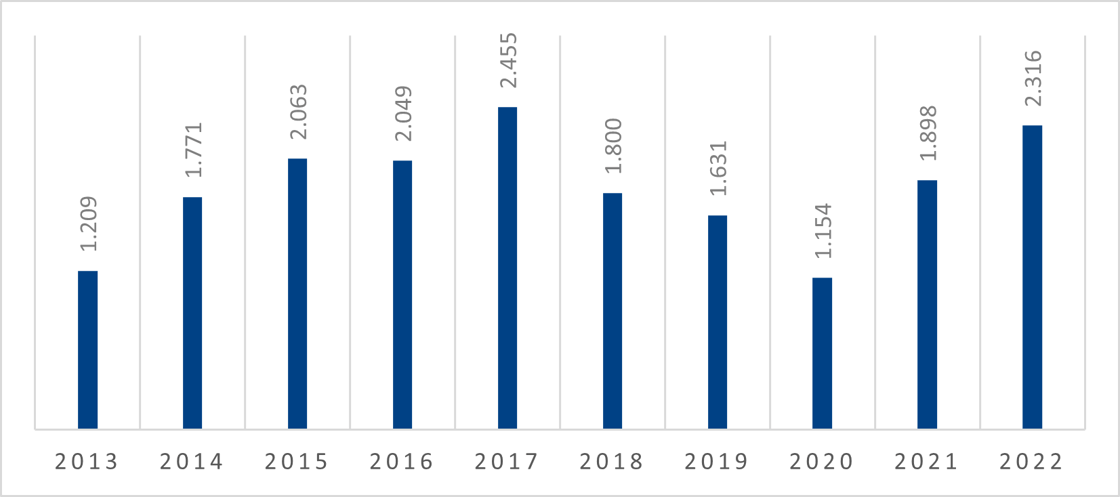 The number of real estate transactions in Ibiza hasn't yet reached the record high of 3256 transactions in 2006 and 2455 transactions in 2017, despite the growth in 2022. Nevertheless, the 2316 transactions reported in 2022 indicate that the real estate market is or was on the verge of a full recovery. Since transaction data are released three months after the end of a trimester, it's impossible to say with certainty. If mortgage rates are rising, it's reasonable to assume that transaction volumes will stabilize or even decline. However, Ibiza has always attracted many cash buyers, and with stocks and savings accounts at risk, real estate has always been a safe investment.
In summary, the real estate market in Ibiza has experienced significant growth since 2020. The island's opulent homes, stunning scenery and exciting nightlife continue to attract buyers and investors. For those looking to invest in a second home or holiday home, the real estate market in Ibiza offers a variety of investment opportunities as it continues to recover. Don't hesitate to contact us for more information or assistance in buying or selling property in Ibiza.
Source: Spanish Ministry of Development (www.mitma.gob.es)
Check our FAQ & Ibiza property buyers guide for more information about this topic.
Socialise with us and

Follow us on Instagram